Let's plan on proceeding with the Flash version 5 screen saver. We should develop a consensus about how it will work. Since I am probably going to do most of the scripting, I will say that a template of some sort based on video news motifs would be a big help. I put a rough sketch on the fixNews site, but I'm hoping you will provide me with more professional looking graphics to put into the screen saver. I think the geodesic interface is better left to the website, since it requires Flash MX. The sit-in concept is still possible on the screen saver, though. So we need to develop ideas about what to include. A news sequence and a "virtual sit-in" section? Flying trash objects? All these can be done. But we need to be smart about the size of the graphics (Megabytes). The screen saver could get quite big.
DirtyBomb

Earlier proposal
---
Web-based interface project
prototype interfaces ->
geodesic picker
animation1
animation2
animation3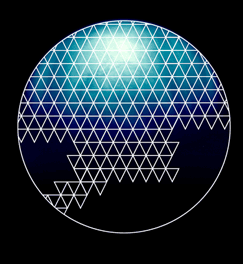 Babelfish translation:
Ok for the change of banners....from what you say me of draws into squares it, being seems powerful this draws into squares could be that when we go to the poles we found the ozone hole and we find a color different from the cells. In this virtual part we would have a sit-in with the necessary tools. This has been drawing into squares for thinking about the structure of the nests of bees. Hurricane could appear upon draws into squares moving it and would see
a traves delcamino
that it does between the nodes of the triangles. He is the one that podria symbolicly to leave contents in the cells. Clicking in hurricane would initiate the surroundings to change and to happen from one from another one. ( Ok para el cambio de banners....sobre lo que me dices de la cuadricula, parece potente. esta cuadricula podria ser que cuando vamos a los polos encontramos el agujero de ozono y encontramos un color diferente de las celdas. En esta parte tendriamos en virtual sitin con las herramientas necesarias. Esta cuadricula hace pensar en la estructura de los nidos de bees. (abejas) El hurricane podria aparecer encima de la cuadricula desplazandose y se veria a traves delcamino que hace entre los nodos de los triangulos. Es el que podria simbolicamente dejar contenidos en las celdas. Clicando en el hurricane podriamos pasar al entorno diferente y pasar de uno a otro. )

---
fred_20041113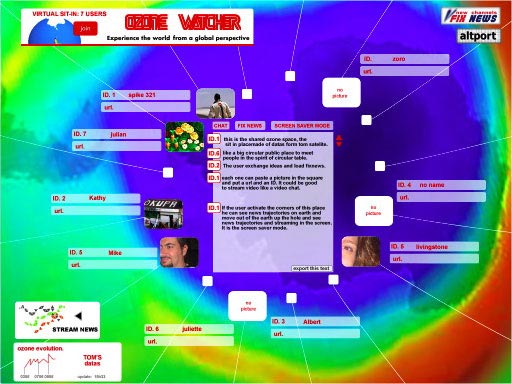 The ozone watcher place is a sensitive place where everybody share a single text stream like in vocalog. The target of this place is to generate a virtual sit in up the modelisation of the ozone hole generated by tom satelite datas. There is a maximum of 16 people online. It is a contemporary version of roy Arthur round table discussant. Each one can paste a picture, put a url and a ID when he joins the round table. I would like to imagine a way to make video stream too. The datas about ozone are viewed through the evolution in time and let user control that the hole will get smaller or not day after day. There is a link to Tom's datas web page, stream news to go back to the stream fixed news mode and a link to altport and a link to fixnews web page.
---
fred_20041118 proposal for ozone visual id.